Advanced Text & Web Fonts
Flexitive's advanced text formatting & layout capabilities help designers create quality digital designs for every channel, size and file format.
Choose between 900+ free web fonts or upload your own custom fonts.
Using web fonts instead of text-in-images helps to streamline workflow and reduces the file size of HTML5 designs, for any language.

If you have your own unique custom fonts, you can upload them to Flexitive to maintain consistency and quality across all of your designs.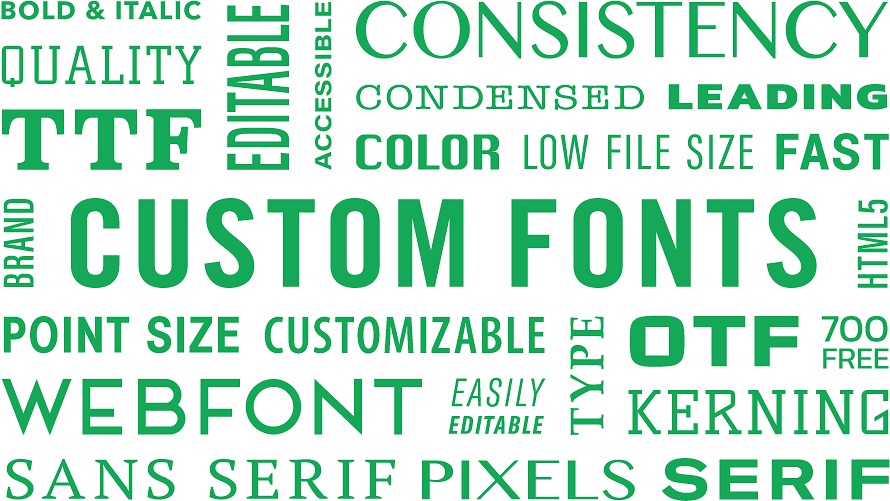 Advanced superscript and subscript text settings help with pricing or symbols.
Adjust the size of superscript or subscript text comparative to your normal text size in any design. Applying superscripts or subscripts to your text can also be automated from a data feed for live updates.
Create pixel-perfect text elements with auto-resizing text boxes.
Auto-resizing text boxes are essential when creating buttons, automated design variations from a data feed, or for creating text elements that will adapt when edited via a template.

Set text boxes to automatically resize horizontally or vertically based on the length of the text in your design.
Include all languages in your designs with right-to-left text.
Flexitive designs can be built in all languages. Some of the world's most spoken languages, such as Arabic, Farsi, or Hebrew, are read from right-to-left.

In Flexitive, text direction can be instantly switched to right-to-left for regular, dynamic design, and live text boxes.
Prioritize privacy & transparency, ensuring regulatory compliance.
Add interactive and expandable content such as legal or ISI text with ease. Or convert text to a global asset that can be embedded across hundreds of designs so that all updates are made centrally.
Maintain consistent and professional text with paragraph sizing.
Set headings in your text with Flexitive's paragraph sizing options. Then, control relative font sizes for your paragraphs by setting header stylings relative to your normal text in the text formatting panel.

Save time and ensure consistency by re-using set paragraph sizing across different designs.